Dumbwaiters are a type of home lift that help to transport small items - especially food - across multiple floors of the house. While they might not be the most popular mobility devices available, they are actually quite nifty and can make your life much easier if you have multiple floors in your home.
This article explains how dumbwaiters work and how much you can expect to pay for them.
Dumbwaiter Price Australia
Dumbwaiters in Australia generally cost between $20,000 and $38,000 to have one installed in your home. Different manufacturers and installers offer a range of different products on the market that vary in price. Due to this, it is worth comparing different quotes to ensure you are getting the best price and model.
The price of your dumbwaiter will usually depend on several factors, including but not limited to:
The type of dumbwaiter & application you require (residential, commercial, industrial)
The dumbwaiters size and specifications (multiple stops, how much load it needs to be able to bear etc)
Number of floors & total distance to travel
What Is A Dumbwaiter?
As explained earlier, a dumbwaiter is a small lift that is usually used to convey small items across multiple floors in a building.
Dumbwaiters are mostly prominent in restaurants, where they are used to move food from one floor to the other - usually from the kitchen downstairs to the upper floors, where the main dining area is. Then, they take dirty dishes and leftover food from the dining area down to the kitchen for washing and sorting.
However, their use has expanded over the past few decades and they can now be found in pretty much every type of building today. Dumbwaiters can be used to carry several items, depending on the type of dumbwaiter. However, unlike most other lift types, these ones weren't built to transport people.
How Do Dumbwaiters Work?
A dumbwaiter operates pretty much like a standard elevator. They come with small cars that transport items up and down floors and mechanisms that control the cars and their movement.
The motion control of a dumbwaiter can vary. Some units come with rope and pulley systems, with the dumbwaiters themselves traveling up and down a shaft between floors. Others work with lift cables, which are attached to the dumbwaiter frame on one side and travel all the way to the top of the hoistway and wrap around a traction drum machine. Then, they go down the opposite way to a set of counterweights.
Interestingly, the earliest dumbwaiters were manually operated and worked with ropes and pulley systems. However, while those are still available today, they've mostly been replaced by electric motors that handle the transportation of items.
Why Is It Called A Dumbwaiter?
Dumbwaiters got their name primarily due to their mode of operation.
We all know how human waiters work - they take your order and transport the food you want from the kitchen to your table. Since dumbwaiters do pretty much the same thing - and they do so without saying a word or making a sound - the name is pretty apt.
Dumbwaiter Lift Types
Dumbwaiters for Restaurants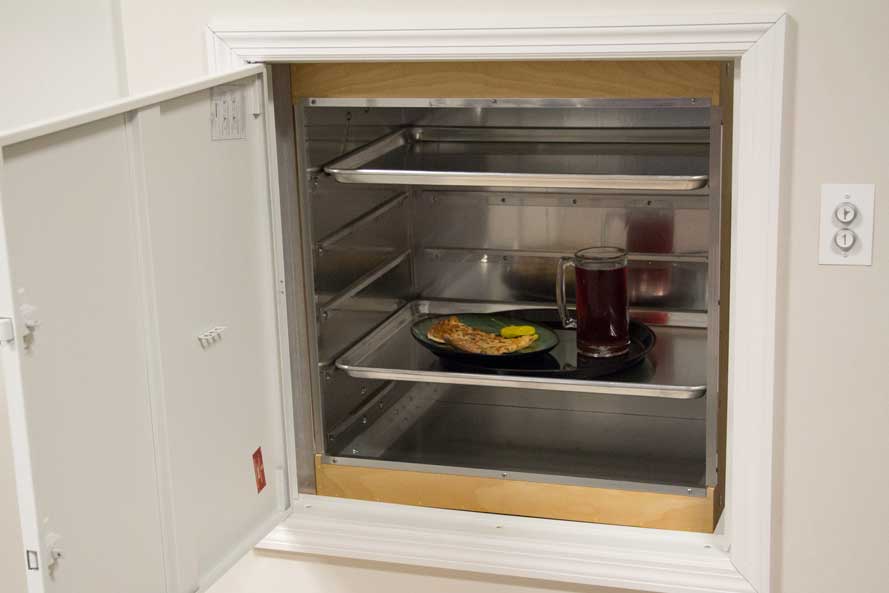 Dumbwaiters were originally designed to move food from kitchens to dining rooms. Today, many restaurants have the same feature.
Standard restaurant dumbwaiters are calculated on the basis of 4 diners. This means that a dumbwaiter should be able to carry at least four diner plates. The cabin should also be high enough to accommodate a bottle of wine, and it should be able to carry up to 100 kg of load at least.
If you own a retail building, then you might need a dumbwaiter to help your staff move stock from a storeroom. This helps to improve efficiency and delivery times significantly.
For commercial dumbwaiter lifts, the sizing is usually custom. Since different retail locations tend to have different requirements, you will most likely need to consult your manufacturer and speak with them about the size that's right for you.
Home & Residential Dumbwaiters
Dumbwaiters have also been quite popular in residential settings. For carrying things like laundry, bags, and other items between floors, they can be quite nifty. 
Residential dumbwaiters are usually smaller than those designed for commercial or retail spaces. However, they usually come in sizes around 750mm x 750mm and have capacities of about 50 kg. As expected, you could also get a custom dumbwaiter if you'd like something different from the norm.
Your Dumbwaiter, Your Choice: Get & Compare Up To 3 Quotes From Professional Lift Installers To Save Time & Money. It's Free!