Inclinators have become especially popular in these past few years as we move towards an aging population. These devices share similarities to conventional elevators, and they are geared towards the same purpose - allowing people with mobility challenges to easily move and access parts of their home that would otherwise be inaccessible. With inclinators, you enjoy a smooth ride around steep parts of your property without having to climb steep sets of stairs or dangerous terrain.
If you're looking to add further functionality to your home as you get older, inclinators are among the most important accessibility appliances you can buy. So, what is an inclinator and what do you need to know about them?
What Is An Inclinator?
An inclinator - or an Inclined Lift - is a vertical cable railway that helps people, generally the elderly or those with mobility problems, traverse steep and dangerous terrains that they may not have been able to using other mobility devices such as a stairlift or motorised wheelchair. The mechanism moves up and down on a single track or double track, with a cabin carrying human passengers from one point to another.
While they are most popular in commercial and industrial settings, inclinators have also become quite useful in homes. Users with mobility challenges can use inclinators to get between points on their property that may have started to become inaccessible - perhaps to their pond, the waterfront their house backs onto, or a garden. If you live in a region with steep pathways and staircases outside your house, an inclinator could be ideal for you.
Unlike conventional elevators, inclinators can easily move up steep gradients. Their primary function is to enable seamless mobility, offering access around your home to areas that might otherwise be difficult to reach.
How Do Inclinators Work?
Now that we understand what they are, it is worth asking, "how do inclinators work?"
Conventionally, inclinators consist of one or two inclined tracks laid over a slope. The track contains a car, which carries a load from one point to the other.
There are two ways of connecting the cars to the tracks - the car could either be hauled up to the station atop the incline where the cable is collected, or it could be balanced by a counterweight moving in the opposite direction along the track.
In general, inclinators work based on the same technology as conventional vertical elevators. However, standard elevator equipment can only really be adapted for systems with inclines of 10° vertical - while inclines with over 20° from vertical will need some additional adaptation. This is where an inclined lift can prove really useful.
Types Of Inclinators
Single-Rail Inclinators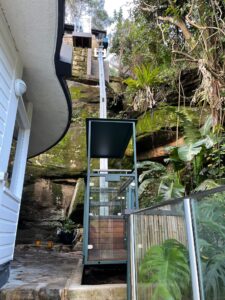 The single-rail inclinator is perhaps the most popular for residential use. It is the simplest inclinator variant in terms of design, providing access for distances up to 120 meters as well as about 45° in vertical inclination.
Most single-rail inclinators can hold 2 to 4 people. So, if you'd like to easily access a structure outside of your home with a friend or two, a single-rail inclinator is a great option.
Twin-Rail Inclinators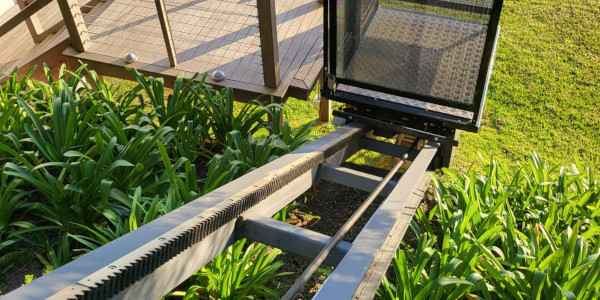 Twin-rail inclinators incorporate two rails on the same system. These inclinators are most popular in commercial settings, although they could also work for residential applications. For people in wheelchairs that require more space than the single-rail inclinator can provide, twin-rail inclinators are ideal.
Twin-rail inclinators also carry up to 10 people, and they have higher load capacity than their single-rail counterparts.
Outdoor Inclinators
While they are more suited for indoor operation, inclinators also work for external environments as well. If you've got a lake or a garden close to your home and would like easy access to it, you could get an inclinator installed to take you there directly.
Say goodbye to the stress of having to go through difficult pathways or stairs. With an outdoor inclinator, you're able to move from one point to the other in no time!
Benefits Of Inclinator Lifts 
Safety 
Inclinator lifts offer optimal safety as alternatives to steep staircases around the external parts of the house. For people with mobility challenges, this is very important.
Convenience
People with mobility challenges would also appreciate the convenience that inclinator lifts offer. They allow you to keep moving with complete comfort and independence, enjoying a smooth ride from one point to the other.
Customization 
For people with special needs and who would like to fashion their inclinators to fit them, installation companies also provide custom-made inclinator lift options to accommodate them.
Ease of use
Inclinators are very easy to work with. Their controls are simple to understand, and you don't need to go through a steep learning curve to become familiar with them.
External access
Inclinators also allow you to access parts that are outside of your home - gardens, lakes, etc. Don't let your mobility challenges keep you from the beauty of nature. Get an installation company to help you out.
How Much Does An Inclinator Cost?
Having an inclinator can be a necessity for most people with mobility issues. However, it is important to bring price into consideration. So, how much do inclinators cost?
Installing a base-model inclinator that covers about 20 metres should cost somewhere between $80,000 and $100,000. You should also note that this generally doesn't cover scheduled maintenance costs.
Like many accessibility accessories, there is no one-size-fits-all price estimate for inclinator lifts. Usually, the cost will depend on several factors - including the uniqueness of your building, the amount of work required to install the inclinator, its size, and the distance it will need to cover.
Servicing Your Inclinator Or Inclined Lift
Inclined lifts & Inclinators are highly advanced pieces of machinery that involve a multitude of moving parts and complex electrical systems. Because of this, inclinators often break down periodically as their parts break with heavy use. There are a number of common issues that can occur and cause an inclined lift to breakdown, including, but not limited to the following:
Cogs and gears teeth wear down due to use and natural causes such as rust and prolonged exposure to salt air.
Electrical systems within the inclined lift short circuiting due to exposure to water, heavy use, and more.
Pieces of the rail system can break while bearing heavy loads over long periods of time or because of faulty parts and a poor servicing history.
Software glitches that can impact rail movement, speed, and timing of operation.
To combat this, inclined lift and inclinator companies offer routine maintenance packages as well as warranties from the factory with the majority of their products.
Routine maintenance is legally required to be conducted at least once a year however this can be done more regularly such as quarterly or bi-annually. Maintenance should only be performed by a qualified technician who is familiar with the specific system and can identify and repair any issues that may arise.
Routine maintenance and servicing packages will use generally cost between $800 - $3000. This is contingent on a number of factors including the age of the model, the size and length of the inclinator as well as the complexity of the terrain it covers. It is important to note that regular maintenance helps to extend the lifespan of the system & prevents more costly repairs in the future. In some cases, upgrades may also be necessary to bring the system up to the latest standards and improve its performance.
Inclinators In Sydney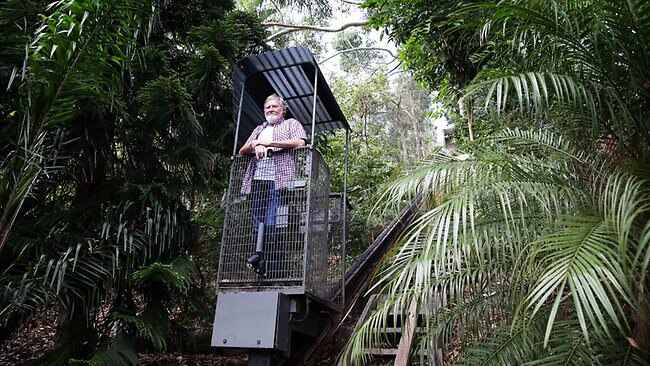 Inclined lifts provide optimal accessibility and comfort for people who have mobility challenges. Inclinators are becoming increasingly common across a number of suburbs in Sydney, however, they are most popular in suburbs where most homes and blocks have steep access points. So, suburbs such as Palm Beach, Mosman, and Seaforth are especially popular for inclined lift services and inclinators.
At the same time, inclinators have become popular in Sydney's regions such as Oatley, Blakehurst, and Sutherland Shire due to steep, long backyards across bushy and uneven terrain being quite common.
These regions are especially popular for inclined lifts because of their steep access. However, their populations are also skewed to the older side. And with most people developing mobility challenges as they age, inclined lifts have become somewhat of a necessity for many residents in these suburbs and regions.
Interested in Installing an Inclinator in Your Home? Get a Free, No Obligation Quote from our Expert Partners in Record Time!
Trust Us From Start To Finish!