Stair lifts are a great addition to any building. They make it incredibly easy for people with mobility challenges to move around, allowing them to enjoy greater independence without having to put any more stress on their bodies.
If you're an Australian and you have some difficulty getting around your house due to mobility challenges, then you definitely want to have a stair lift. However, like all building modifications, stair lifts come with costs.
Usually, the cost of a stair lift will vary based on several factors. In this article, we'll break down everything you need to know about these lifts and the cost of getting them into your building.
Stair Chair Lift Prices Australia 
From our research, getting a stair lift in your home will generally cost between $4,500 AUD to $18,000 AUD. This depends on a range of factors, including but not limited to;
The type of stair lift you require

such as a straight, curved, or outdoor stair lift. 

The number of floors and stairs that the stair lift needs to travel.

This is because the further distance required, the more rail needs to be attached to the stair lift, increasing the cost. 

The brand & model of the stair lift you purchase.

Who you purchase your stair lift from can have a significant impact on the final price of your lift. It is important to compare different

stair lift

models on the market to ensure you are getting the best value for money. 
Read on to learn more about specific pricing for different stair lift styles and other things worth considering when buying a stair lift.
Straight Stair Lift Price 
Generally, a straight stairlift in Australia will cost between $4,500 and $8,000. The exact price you pay will depend on several factors, including the length of the staircase and the model you select as well as any additional modifications or upgrades - such as changes to the seat.
Straight stair lifts are arguably the most popular type of stair lift available. These lifts come with a simple chair attached to a rail, and they notably only move in a straight line. If you're looking to get up over one straight flight of stairs with no curves or bends, then the straight stair lift is what you want.
While straight stairlifts can't go around a bend or corner, you should note that they can be customized to immediately retract as they approach the base of the stairs. This means that the lifts are also adaptable to homes that have narrow entrances or walkways close to the bottom of their staircases.
Curved Stair Lift Prices Australia
From our research across the industry, you should expect to pay between $13,000 AUD - $18,000 AUD to install a curved stair lift. It goes without saying that curved stairlifts will require a more rigorous installation & design process than straight stairlifts, so, they also cost more.  Factors such as staircase length and upgrade options could easily cause you to pay more than this.
A curved stairlift is perfect for you if your home has a curved staircase - or perhaps even a straight staircase with an intermediate landing zone leading to a second flight of stairs. These lifts are designed to easily curve, following the pattern of the staircase and moving along the curve to get you from one floor to the other.
If space allows, these stair lifts are also designed with an "overrun" at the top of the staircase that allows you to essentially park them on the top landing in a way that won't disrupt free movement.
Outdoor Stair Lift Prices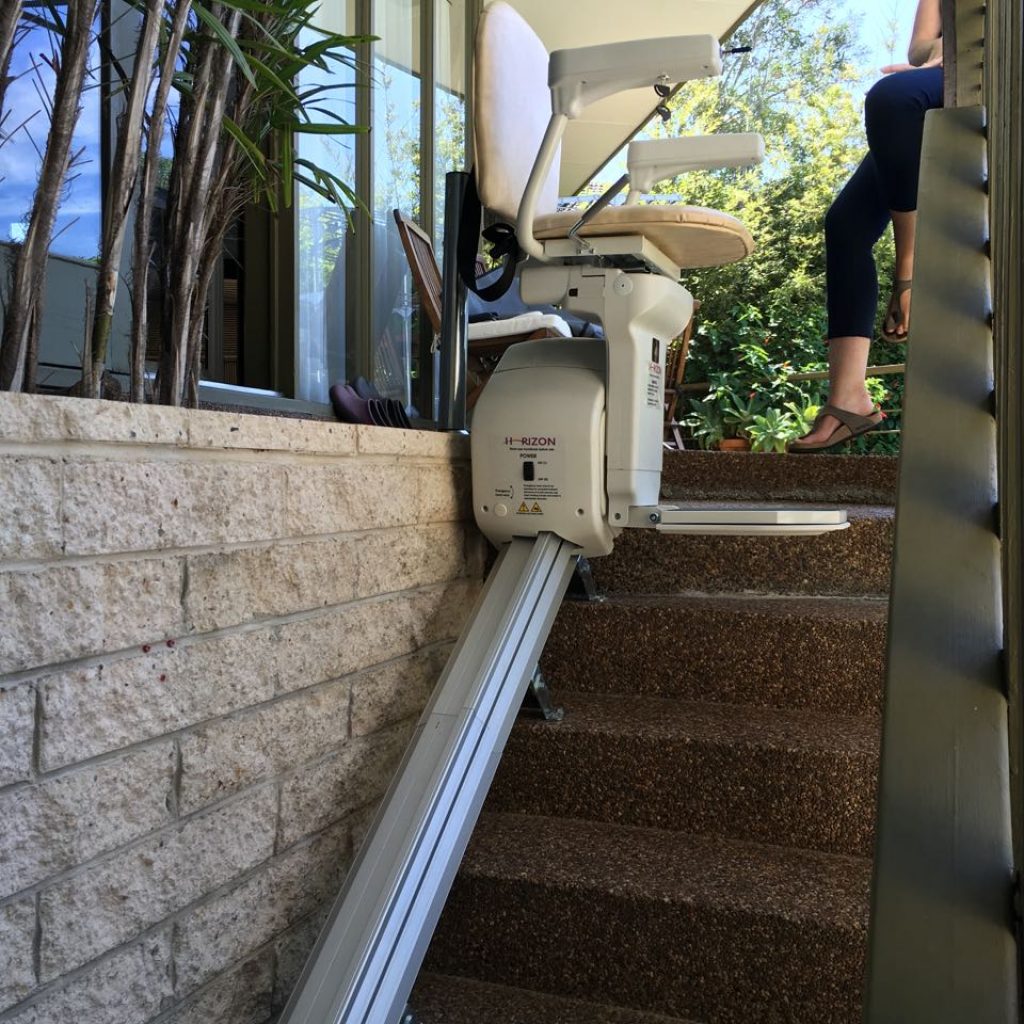 Suprisingly, there is little difference between price when it comes to getting an outdoor stair lift compared to an indoor one. On average, you should be willing to spend at least $7,000 for a straight outdoor stairlift. If the lift needs to be curved, then your price could rise as high as $18,000.
Also known as heavy-duty stair lifts, outdoor stair lifts usually come with greater weight capacities than their indoor counterparts. Just as well, outdoor stair lifts will need to be made with weatherproof materials that allow them to withstand the weather elements.
In some cases, they could also require additional storage space and covers.
Pre-Owned Stair Lift Pricing
If you're looking to save some money on your stairlift installation costs, then you might want to consider pre-owned stair lifts. These lifts are still in good condition, and they can definitely give you a lot of bang for your buck.
That said, you might find it a bit more difficult to get a pre-owned stair lift as generally, the track will need to be remade to fit your staircase and its structural specifications.
On average, a pre-owned stair lift will cost between $2,500 and $11,000. As expected, this will depend on the type of stair lift you're looking to get as curved stair lifts are generally still more expensive than straight ones.
Some of the factors you should consider include the type of stair lift, the length of the rail, and more. If you want a powered swivel seat on your lift, then you will need to spend more money too.
Stair Lift Pricing Factors 
Like most lifts & building modifications, there is generally no "one size fits all" price when it comes to installing a stair lift in your home. The final price you pay will depend on several factors, with the most prominent of them being:
Type Of Stair Lift & Its Features
First, you will need to consider the type of stair lift you're buying. As explained earlier, stair lifts are primarily straight or curved. Straight stairlifts tend to cost less than curved models as curved stair lifts require more work and have a more complicated design due to the need to fit with a curved staircase.
Then, there are the outdoor stair lifts, which need to be reinforced and built with weatherproof materials. These stair lifts also have higher weight capacities and more rigid structures that help them accommodate the strain of moving people outdoors. These stair lifts tend to be only slightly more expensive. 
You will also need to consider additional features like the addition of a powered swivel seat, the seat material, and other modifications that could be made to your stair lift. You also need to determine whether you'll be buying a new stair lift or a pre-owned one.
Safety & Security 
Another important factor in the cost of a stair lift is the lift's safety and security features.
Generally, stair lifts come with safety features such as handles, guardrails, and seatbelts. These features help you to maintain balance and composure while you move up and down the stairs. Some also come with harnesses and remote controls that allow you to easily control the speed of the lifts.
The more safety features, the higher the price you pay. However, don't let the price increase dissuade you as it's hard to pay too much money for safety so this is definitely something you should prioritise.
The Brand You Are Purchasing From 
You should also remember that different manufacturers of stair lifts put different price tags on their products. Due to differences in materials and other factors, stair lift prices tend to vary from one stairlift company to the other.
Rail Length 
You also need to consider the length of the stair lift rail. The cost of a stair lift is highly dependent on the length of your staircase - or the distance the rail needs to cover.
Stair Lift Financing
If you find that paying for a stair lift up front is a bit out of your price range, then financing options are generally available to help you foot the bill.
Essentially, there are different financing options for anyone who needs financial assistance with getting mobility tools like a stair lift. Some common grants and options include:
NDIS Grants 
The National Disability Insurance Scheme (NDIS) is a branch of the government that supports Australians with disabilities - as well as their families and caregivers. To qualify for an NDIS grant, you have to have a permanent disability and be an Australian citizen (and resident).
MyAgedCare
This is a government website and contact center that allows aged people to receive care services. For people who are above the age of 65 and who have mobility difficulties, this could be a viable option as well.
Veteran Grants
The Department of Veterans Affairs also offers financial support for military veterans who need to make mobility modifications to their homes. You can check this document to find out more about the eligibility criteria.
Many stairlift companies also offer their own financing programs that will allow you to pay back the cost of your stair lift over a number of months or years. Obtaining a personal loan is also another option if you do not meet the requirements of the financing programs listed above.
FAQs
How Much Does It Cost To Run A Stair Lift?
Thankfully, stairlifts have an extremely low operating cost. Due to the high-powered and energy-efficient batteries found in each model, stair lifts cost on average about $20 a year worth of energy to run. Because of this, after the initial costs, stair lifts are often much cheaper to own and run compared to other house appliances such as your TV! Maintenance costs, however, are something to be considered but are usually quite manageable.
What Is The Price Of Installing A Stair Lift?
Depending on the type of stair lift and features, installation services should usually cost between $1,500 and $3,000.
Of course, you want to remember to keep an eye on different brands to see their products and prices. Generally, the cost of installation for a stair lift is included in the final quote provided to you by the company you choose. 
How Long Does It Take To Install A Stair Lift?
The average time taken to install a stair lift ranges between two to three hours. Of course, the exact time will depend on the type of stair lift and additional features. Curved stair lifts will generally take longer, as much as up to 8 - 9 hours. 
Your Stair Lift, Your Choice: Get & Compare Up To 3 Quotes From Professional Lift Installers To Save Time & Money. It's Free!