Stair lifts are useful mobility devices that allow elderly people or those with physical disabilities to age in place in their homes by providing assistance when moving up and down their staircases. Read on to find out more about these great devices!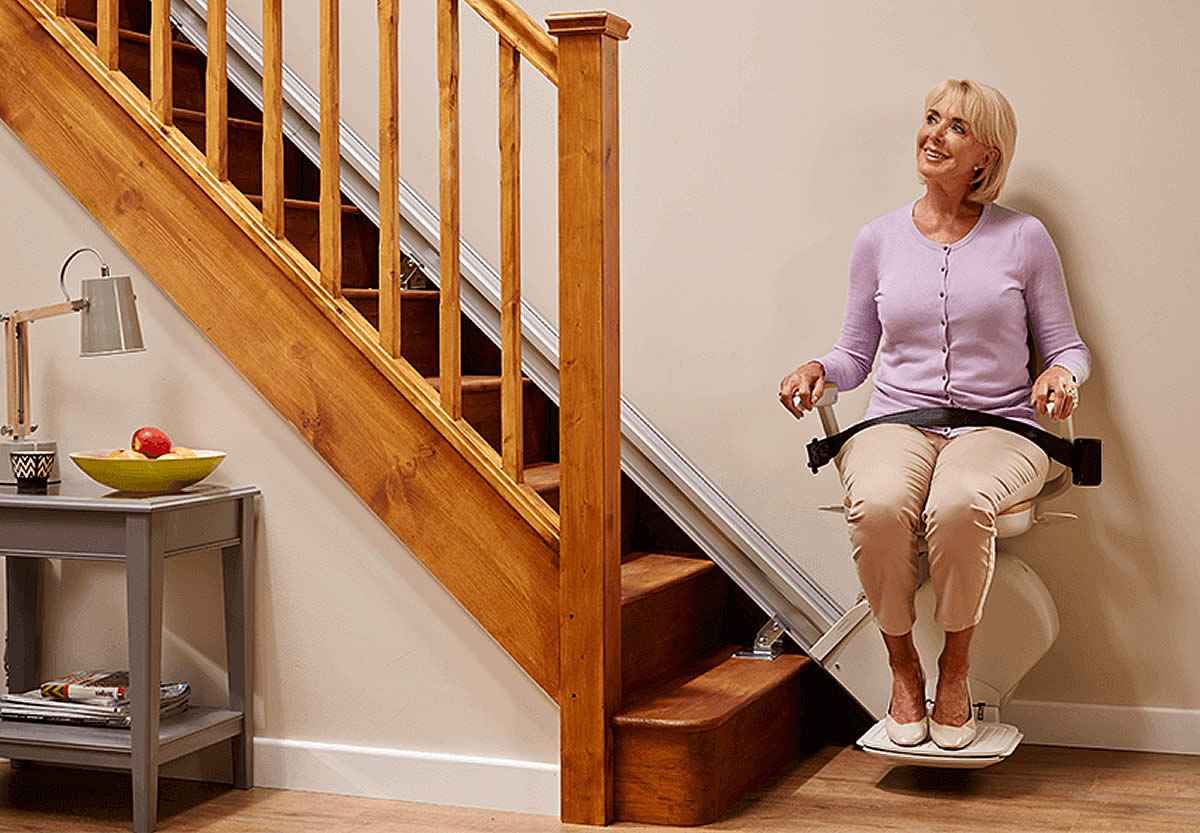 Overview:
Straight stairlifts are the most popular type of stairlifts. Since most people have standard, straight staircases, these are very common and will work for most people.
Most straight stairlifts have fixed or drop-down seats attached to them. They are easily installed, although homes with especially narrow staircases might have installation problems with them and may require a custom solution.
Price*: Between $3,250 - $7,500
Offered by: Acorn Stair Lifts, Stannah, PR King ...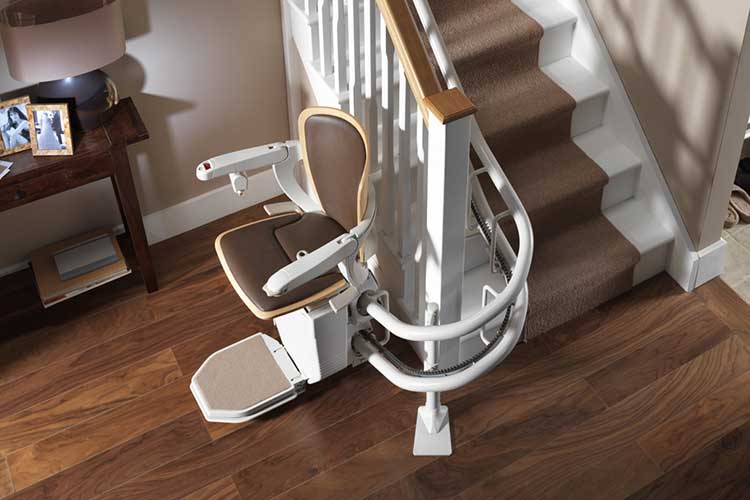 Overview:
As the name suggests, the curved stair lift works for staircases that feature curved designs. Since these staircases usually pose an operational difficulty for straight stair lifts, the curved options work better for them.
Curved stair lifts can either be custom or modular. The custom options are designed to fit staircases with uncommon builds, taking their uniqueness into consideration. They are designed from scratch, so they tend to take longer to manufacture.
On the flip side, a modular stair lift is taken from an existing set of rail sections. They are installed more quickly, although they may not cater to your needs as well as a custom-made, curved stair lift.
Price*: Between $16,000 - $20,000
Offered by: Acorn Stair Lifts, Stannah, PR King ...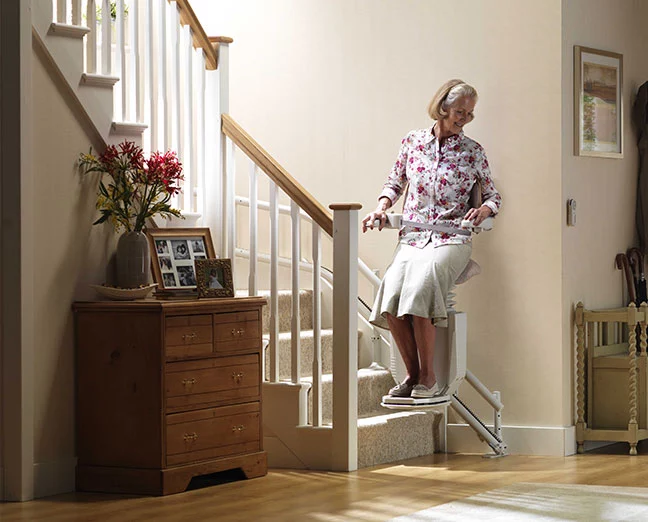 Overview:
A standing stair lift is installed in cases where a user has a narrow staircase that won't be able to fit a seat or for those that may have trouble sitting down and getting back up. Instead of sitting down while you are moved around, you'll be standing with these lifts.
However, standing stair lifts can be challenging. For one, it is important for the staircase to have enough headroom to accommodate your entire body. The lifts might also not be ideal for people with problems standing for long or bending at the knees.
Price*: Between $5,000 - $8,000
Offered by: Arrow Lifts, Stannah, Acorn Stairlifts ...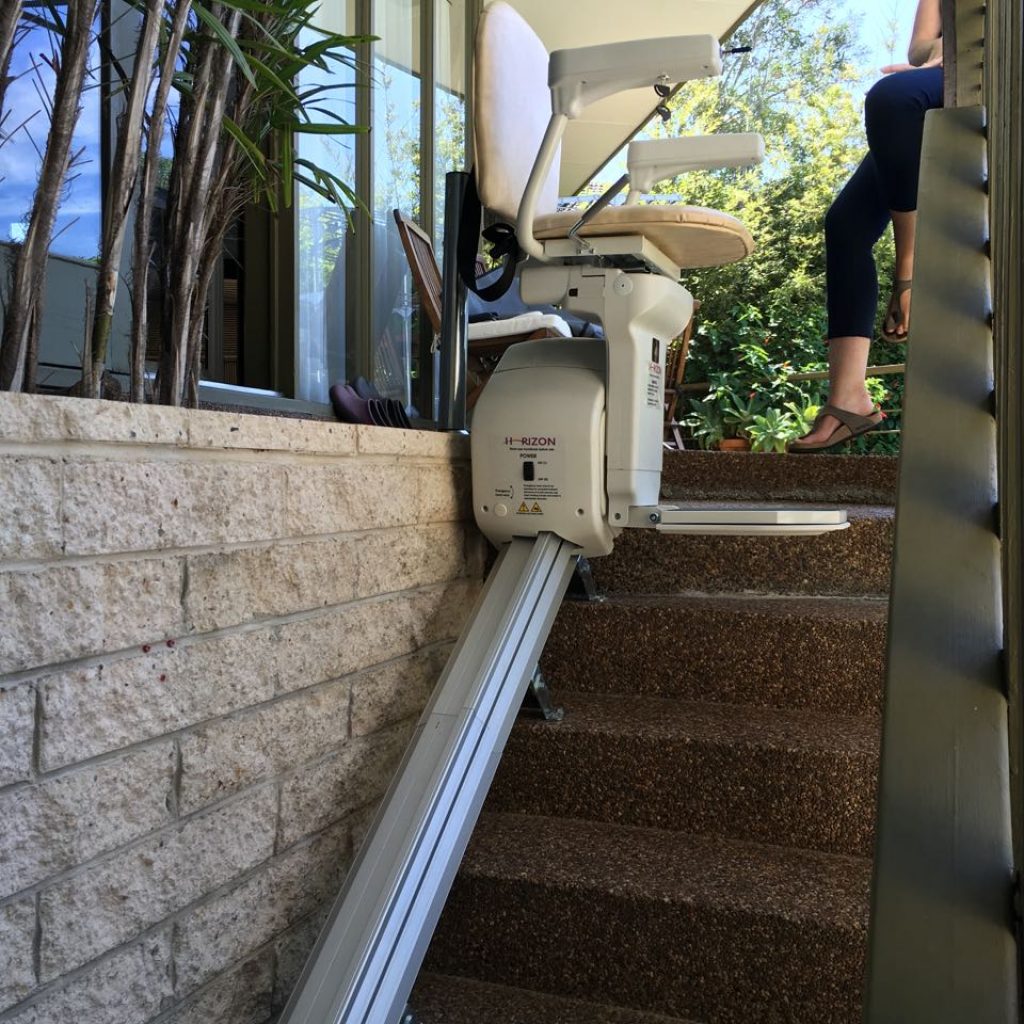 Overview:
Outdoor stair lifts are generally installed outside a set of stairs leading to your property's front door. They are built to withstand harsh weather conditions, with features like protective covers and closed rail systems.
Price*: Between $7,000 - $12,000
Offered by: Direct Lifts, Acorn Stairlifts, Stannah ...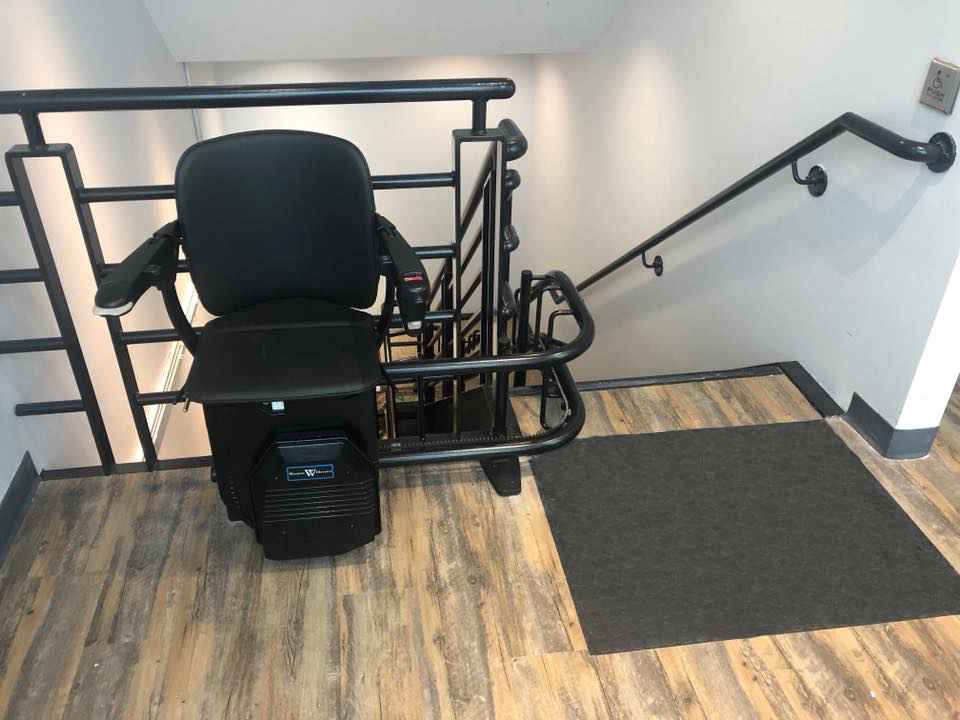 Overview:
Several public buildings and companies have also opted to install commercial stairlifts to help their employees, visitors, and customers with limited mobility. They are installed in compliance with local building codes, so it is important to understand the laws if you hope to install some in your building.
Price*: Between $5,000 - $8,000
Offered by: Arrow Lifts, Axis Lifts, Stannah ...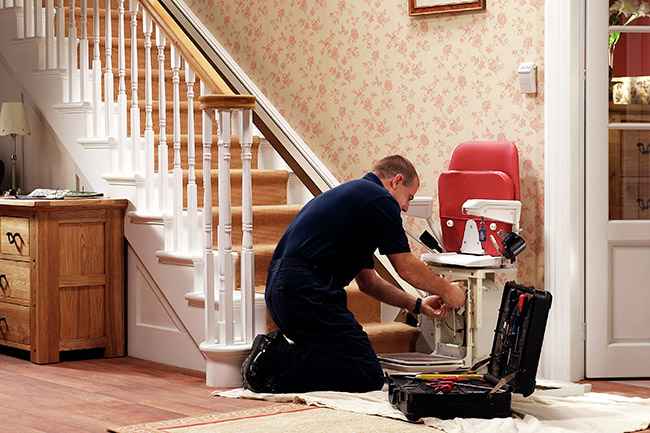 Overview:
If you're looking to save money on stair lifts, then you could get the refurbished option. They are essentially used stair lifts, but they've been removed and properly serviced by the manufacturers before being reused and resold.
Price*: Between $1,700 - $10,000
Offered by: N/A - Found on aftermarkets such as Facebook Marketplace, Gumtree, eBay etc ...
In its simplest sense, a stair lift is a chair that is connected to a track. The track is directly bolted to the stair treads, allowing the stair lift to move up and down easily.
Stair lifts work primarily as mobility devices, transporting you across different floors of your home. It's easier than having to walk up and down the stairs, and it can be more affordable than installing an elevator in your home.
The stair lift system consists of a railing mechanism that is tailored to the chair, as well as a seating unit. The chair moves along the staircase slowly, usually around 2.5 inches per second. Stair lifts work slowly to ensure your protection and comfort while moving.
Stair lifts can also be used to lift luggage, groceries, and other bulky items up and down the stairs. So, they're an all-in-one, convenient solution for people with mobility challenges.
How Do Stair Lifts Work?
Perhaps the first thing you will need to know about stair lifts is that they aren't attached to the walls. Instead, a stair lift is attached to the treads of your stairs. The system includes support brackets that hold the rail together, as well as screws that go through any hard surface easily.
Primarily, stair lifts can either be electronic or battery-operated. The latter category is usually recommended because the lifts continue to work even when there's a power cut or outage in your home. Even without power, people with limited mobility should be able to move around their homes - and stair lifts that are battery-operated can provide that.
Stair lifts also come with remote controls that govern their use and application. Users can simply press a few buttons, and the lift is ready to work.
Stair Chair Lift Prices Australia
As with everything else, the stair lift prices in Australia vary. Several factors determine the price - including the length of the rail, the type of lift, and the number of turns the staircase has.
However, you should be willing to pay between $3,250 and $7,500 for a straight stair lift and between $16,000 to $20,000 for a curved stair lift. Custom stair lifts, whether they be straight or curved, will generally cost a higher amount and require a custom quote from a reputable stair lift provider.
Stair Lift Rental
A stair lift rental is an ideal option for people who require short-term mobility solutions while at home. Instead of installing a full stair lift, you could simply pay a rental company to make use of a hired stair lift in your home.
They also work if you have family members or friends with limited mobility coming over. You could have a stair lift rental while they are around, and ensure that they can remain comfortable while at your place.
Stair Lift Rental Cost
The ideal rental stair lift cost will depend on several factors - including the length of time you will be renting the lift, the type of lift you will be renting, and the amount of maintenance that might be required for the period.
Most stair lift rental companies will require you to make an upfront payment once you're ready to get the rental. The payment will cover installation and an initial rental period, which is usually six months. After this, a monthly rental charge will be imposed.
However, the average stair lift rental costs about $1,500 in upfront costs - as well as $100 in monthly rental charges.
Stair Lift For The Elderly
Stair lifts for elderly people are very important. Many people tend to develop challenges with mobility once they get older, and they will need some assistance to move around from one floor of their homes to the other. For optimal convenience, stair lifts are more than ideal.
Ideally, elderly people will need stair lifts as soon as they begin to have challenges with moving conveniently. However, your choice of getting a stair lift will primarily depend on you - if you feel strong enough and can do without the lift, then you don't necessarily need to get one. And, you could always consider a stair lift rental if you have an accident and would need to recover.
But, once you start to notice that you're not moving quite as fast and conveniently as you used to, then a home lift will probably be the ideal solution
What To Consider Before Buying A Stair Lift
Before going ahead to make a purchase, it is important to know what to consider before buying a stair lift. Primarily, the biggest points of consideration include:
Your needs:
Perhaps the most important consideration will be what you actually need. If you're simply trying to recover from an injury, then you might not need to get a stair lift installed - renting a stair lift could work easily for you instead.
You should also consider your health needs. For instance, someone with arthritis might need to find an ergonomic stair lift. You would also most likely need a powered swivel seat if you can't really use a manual seat well. And, if you have challenges with bending your knees, you most likely won't want to get a standing stair lift.
The type of stairs:
You also need to consider the type of stairs you have. This will determine whether you can get a ready-made rail or would need something custom-made.
Straight stair lifts are ideal for straight stairs that go in a single direction and which don't have any turns. If your stairs have bends or corners, then you will need a curved stair lift with a rail made to fit your stairs' contours.
For narrow staircases, you will most likely need a lift without a chair such as a standing stair lift.
Your budget:
Of course, the price of the stair lift is an important consideration before making a purchase. Stair lift prices vary and will depend on your requirements, so don't be afraid to find out the cost of the exact stair lift that works for you by getting a free custom quote.
Support:
The company selling the lift should also be able to offer proper support after the sale. If the lift breaks down later, will they be able to send a technician to help you fix it? What about warranties? And how do you contact the company if you need some support?
Before making a purchase, be sure to ask these questions.
Benefits Of Stair Lifts
Safety:
Among the many benefits of stair lifts, this is probably the most prominent. Using a stair lift significantly reduces the risk of an injury at home. And for people with limited mobility, this is very important.
Ease of use:
Stair lifts are also quite easy to operate. Simply sit on the seat, use the seatbelt, and press a button on the remote. You can stop the lift with a button on the remote as well, and you can even control the speed of the lift.
Comfort:
Some lifts come with additional cushions that ensure optimal comfort on each ride. So, besides their convenience, they also keep you comfortable while moving.
Independence:
Instead of relying on a friend or family member, stair lifts allow you to move up and down the stairs on your own. You're no longer a burden to people - that's got to feel great!
Versatile:
Thanks to the stair lift rental, it is now possible to have a stair lift in your home for a short term. Whether you're recovering from an injury or entertaining a friend, stair lift rental allows you to take care of short-term needs.
Pros and Cons Of Stair Lifts
Pros
Safety:
Stair lifts go a long way in preventing accidents in your home.  Moving up and down the stairs can be a risk for people with limited mobility, and stair lifts prevent those.
Independence:
As a senior, a stair lift ensures that you can easily regain your independence. And, instead of having to move to an assisted living facility, you can remain in your home and move freely.
Convenience:
Stair lifts also provide a very convenient and comfortable way of moving up and down the stairs. No pain, no fuss.
Cons
Costly option
Chief among the cons of stair lifts is the fact that they can be quite expensive. Whether you're going for the full installation or opting for a rental, stair lifts can easily set you back thousands of dollars.
Compatibility
Some homes also don't have staircases that are compatible with stair lifts. This means that you will need to do a considerable amount of research before thinking about buying or installing one.
FAQs
Will my insurance cover the cost of a stair lift?
Sadly, most private insurance companies won't cover the cost of stair lift purchases or installations.
How does the stair lift attach?
Stair lifts are attached to the treads of the stairs using a rail system - not the wall itself.
Will a stair lift block my staircase?
Most stair lifts come with compact builds and designs that allow them to operate without infringing on your ability to move freely up and down the staircase without using the lift.
How long does the installation process take?
Generally, this depends on the type of stair lift and any custom changes that can be made. However, standard stair lifts can be installed in a matter of hours.
What happens in the case of a power outage?
It is recommended that you get a battery-powered stair lift. This way, you won't get affected if the power runs out.
Your Stair Lift, Your Choice: Get & Compare Up To 3 Quotes From Professional Lift Installers To Save Time & Money. It's Free!