Glass lifts are among the latest innovations in residential convenience and transportation. These lifts are known for their impressive aesthetic appeal, although they also offer several impressive functionality benefits as well.
In this article, we'll examine glass lifts and what they offer - especially for prospective residential buyers.
What Is A Glass Lift?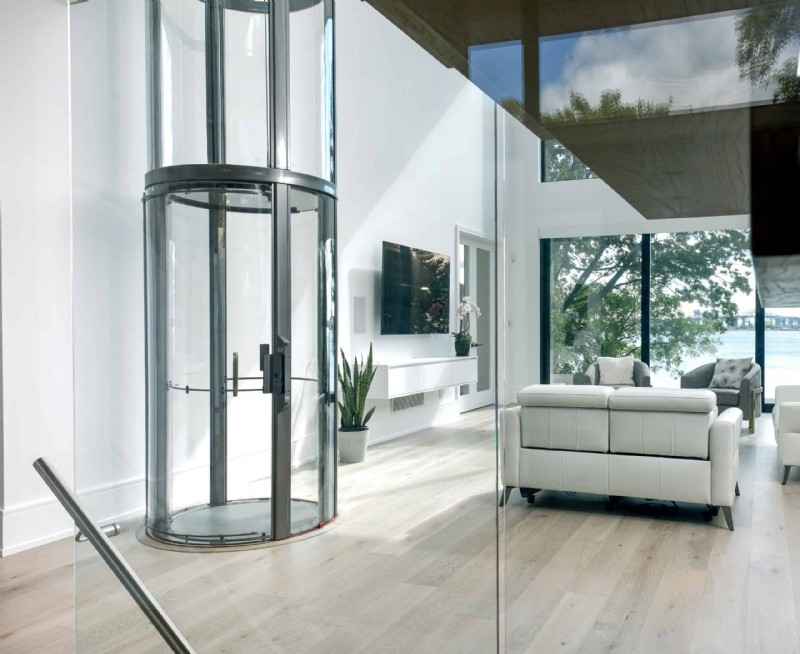 As its name suggests, a glass lift is a device that allows you to move up and down different floors in your home more conveniently. These lifts are usually made of high-density glass, which helps to provide a modern and minimalistic look.
A glass lift uses a vacuum system to move its elevator cab up and down multiple floors. The system safely causes the cab to ascend or descend, while a braking system is installed to stop the cab at a specific point.
One of the many practical applications of these lifts is that they tend to fit in most homes. Most glass lifts come as modular systems that are entirely stand-alone structures. They won't need hoistway construction, so they are comparatively easier to install and work with.
Glass Lift Features
 Transparency
One of the defining features of a glass lift is the fact that it offers an impressive level of transparency. People outside the lift can look in to see who's coming up or down the floor, while those in the lift can also enjoy panoramic views of their surroundings.
 Suction Assembly
Most modern glass lifts work with vacuums in their host cylinders. The suction assembly, which has vacuum turbines, is usually found in different places. It can be attached to the lift car itself, or it could be fastened to the roof of the chamber.
 Safety Features
As expected, glass lifts also have several features that guarantee your safety. The lifts have brakes that stop them whenever you've gotten to your destination, and there are also handrails and other features that help to keep you safe and comfortable while in the lift car. Other safety features include a backup power supply, air pressure control, anchoring systems, and much more.
Glass Lift Cost Australia
Glass lifts come with several impressive unique features and benefits. And right now, they are among the most popular lift types for residential use. Unsurprisingly, these lifts also tend to cost more than traditional options.
Generally, the price of a glass lift starts at about $50,000. However, prices could easily climb as high as $100,000 as well. Your final quote will depend on several factors, including:
The number of floors in your home
The type of door installed in the lift car
Additional safety features
Customization options, and much more.
Glass Lift Pros & Cons
So should you get a glass lift in your home? Here are some important things you'd want to know about them:
Pros
Aesthetic Appeal
When it comes to home lifts, not many options beat a glass lift in terms of aesthetic appeal. You don't have to deal with the difficult decision of colour selection either, and you can easily customise it to fit the look of your space.
Long-Lasting Build
Don't let their glass exterior fool you; glass lifts last a very long. Most of them are made with high-density tempered glass, which has been refined and is strong enough to hold significant levels of pressure & weight.
Eco-Friendly & Money-Saving
Glass lifts have little to no need for artificial lighting. This means that they use less electricity. You don't need to keep their lights on throughout the day, so your utility bills are significantly reduced.
The presence of natural lighting will also help the elevator to reduce your overall carbon footprint, so you're also saving the environment at the same time.
Cons
Less Privacy
The transparency that makes glass lifts so great can also be quite a demerit. Since everyone can look into the lift, they're not so great from a privacy standpoint.
Cost-Consuming
As explained earlier, glass lifts also tend to be more expensive than other lift options from a purchase and installation standpoint. So, if you're looking for a budget-friendly lift option, a glass lift might not be the most ideal.
Glass Lift Shaft
These shafts also come with several impThe shaft of a glass lift is one of its most important features. The glass-enclosed area gives the lift its aesthetic appeal and appearance, offering a modern and much more appealing alternative to the conventional enclosed lift design.
Glass lift shafts have entirely revolutionised the architecture and interior design considerations behind home lifts. Instead of just necessities, lifts can now be seen as attractive parts of the home that lend to the overall aesthetic.ressive benefits. They can create an attractive focal point, especially in modern home settings. Scenic shafts also allow you to enjoy an impressive panoramic view, regardless of where it's being used. And for people who get claustrophobic when they step into lifts, glass lift shafts take this problem away almost entirely.
Your Lift, Your Choice: Get & Compare Up To 3 Quotes From Professional Lift Installers To Save Time & Money. It's Free!