Millions of people live with one mobility challenge or the other. These challenges make movement difficult enough for them, and it is especially bad when they are unable to access certain areas. Wheelchair lifts are among the innovative devices that help to overcome this problem.
Wheelchair Lifts are a lift variant that were built specifically to help people with wheelchairs or mobility scooters access spaces that would otherwise have been impossible to reach. They work with strong motors, allowing people with wheelchairs to simply get on them and ascend or descend from heights.
Think of a wheelchair lift as a regular lift in a building. Instead of a wheelchair-bound person having to go through the arduous task of climbing stairs or heights, the wheelchair lift handles the task for them, allowing them to move easily between levels, all without having to leave their wheelchairs.
Wheelchair lifts are a type of platform lift. Interestingly, however, many people tend to use the terms "wheelchair lift" and "platform lift" interchangeably.
Today, wheelchair lifts are available for vehicles, in homes, and in commercial and public spaces that are looking to become more wheelchair-accessible.
How Do Wheelchair Lifts Work?
Wheelchairs can be too bulky to fit into small areas. And when you need to access a restricted area, moving a wheelchair might not be so convenient. Wheelchair lifts solve this problem by providing a flat surface on which a person can roll their wheelchair over. The surface lifts the wheelchair over the obstacle, allowing you to get over it without needing to leave your wheelchair.
Most wheelchair lifts are operated by remotes that control how they go up or come down. They also come with two primary operation methods - the hydraulic system and the screw drive system. In the screw drive system, the lift includes a screw shaft, a motor, and a large nut. The motor spins the screw shaft, which then moves the nut up or down - thus causing the lift to move in the same direction.
On the flip side, the hydraulic system includes hydraulic fluid pumping out into the platform's reservoir. The fluid drives cylinders, which move up or down depending on the user's intended direction. Thanks to this action, the entire lift platform can move as well. Users are free to choose whichever working system they would prefer.
To ensure your safety, wheelchair lifts also include several additional components. For instance, they could come with locking gates at the upper landing spots, and safety fences to ensure that the user doesn't fall from the lift. Some wheelchair lifts also come with guardrails for optimal stability, as well as pressure control features to help the user ensure total control over the lift's speed. Emergency stop buttons, backup battery systems, and weatherproofing (for lifts located outside the house) can also be included.
Wheelchair Platform Lifts
Wheelchair platform lifts are quite different from wheelchair lifts. While a wheelchair lift is placed in a fixed position, wheelchair platform lifts are more flexible and mobile. However, both devices have the same focus - helping people with mobility challenges to easily move around without the need to leave their wheelchairs.
A wheelchair platform lift is highly versatile. It can be used both indoors and outdoors, offering much more convenience and independence - especially in a much smaller package.
Wheelchair Platform Lift Prices Australia
It's understandable if you're considering the price of wheelchair platform lifts. We've been able to gather different price quotes from several manufacturers of wheelchair platform lifts to give you an accurate average price.
Generally, the prices of wheelchair platform lifts vary based on their size and the type of lift being installed as well. Wheelchair platform lifts cost on average between $15,000 and $60,000. The factors that impact price include distance covered, chosen operating module, customisation, and safety features among others.
Wheelchair Stair Lifts
Wheelchair stair lifts are a seamless combination of two important mobility assistance tools; wheelchair lifts and stair lifts. They make it easy for wheelchair-bound people to climb stairs - and to do so without having to leave their wheelchairs.
With a wheelchair stair lift, you can enjoy optimal flexibility and convenience as you look to move around. The difference between these and stair lifts, however, is that a wheelchair stair lift only comes with a mechanized platform that is connected to the stairs' treads and goes up and down. This structure is unlike the traditional stair lifts, which also include chairs.
A wheelchair stair lift is a great tool to have for people with mobility challenges. They are especially ideal for residential areas, although several public spaces also incorporate them to provide easy accessibility for wheelchair-bound guests.
What Are The Different Types Of Wheelchair Lifts?
Vertical Platform Lift
At its most basic level, a vertical platform lift is a device that allows people in wheelchairs and scooters to easily go up and down a distance. These devices are usually called porch lifts or deck lifts because they are commonly used outside to offer access to an elevated entrance into the house from the ground level. However, they can also be used inside the home with an enclosure.
Most vertical platform lifts are operated using screw drive systems. They feature open platforms and drive mechanisms that power them up and down.
The prices of vertical platform lifts tend to vary based on several factors - including the manufacturer, height, location (residential or commercial), and other customisation options. However, for residential use, these lifts usually vary between $15,000 and $40,000 in price.
Inclined Platform Lift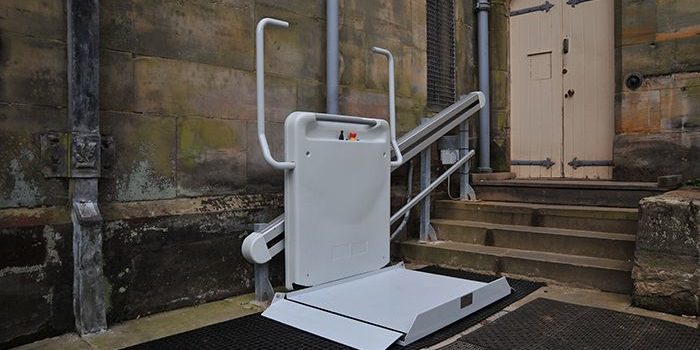 An inclined platform lift is primarily used along staircases. They allow wheelchair-bound people to easily climb up and down stairs, and they usually move along the angle of the stairs. Some of these lifts come with fold-out seats, which reduce the user's reliance on the wheelchair itself to get up and down the stairs.
These lifts usually fold up when they're not in use, so to save space. However, it is still important to review the available space available and around the stairs before installing one. This is especially true for the top and bottom landing spaces. Users must be able to maneuver on and off the platform without having to leave the wheelchair, so compatibility is a critical factor to be considered.
Inclined platform lift prices also vary based on different factors - such as the type of stairs, safety features, and customisation options. However, the prices usually range between $15,000 and $30,000.
Like vertical platform lifts, the inclined options are also suitable for both home and commercial use. However, unlike the vertical options, inclined platform lifts are more suited for stairs.
The lifts also come with different safety features - most inclined platform lifts come with safety arms and fold-up ramps, which guide the user and ensure that they don't fall off while riding. As for the vertical lifts, the most important safety feature is a solid gate, thus reducing the chances of a pinching hazard for the user's hands. Some vertical lifts also come with locks that prevent their gates from being opened unless the lift has gotten to the upper landing area.
Straight Inclined Platform Lift
The straight inclined lift is a type of inclined platform lift that is installed on straight stairs. They move the user up and down a single straight line, allowing them to easily move along the path.
On average, a straight inclined platform lift should cost between $15,000 and $30,000, depending primarily on the distance covered.
Curved Inclined Platform Lift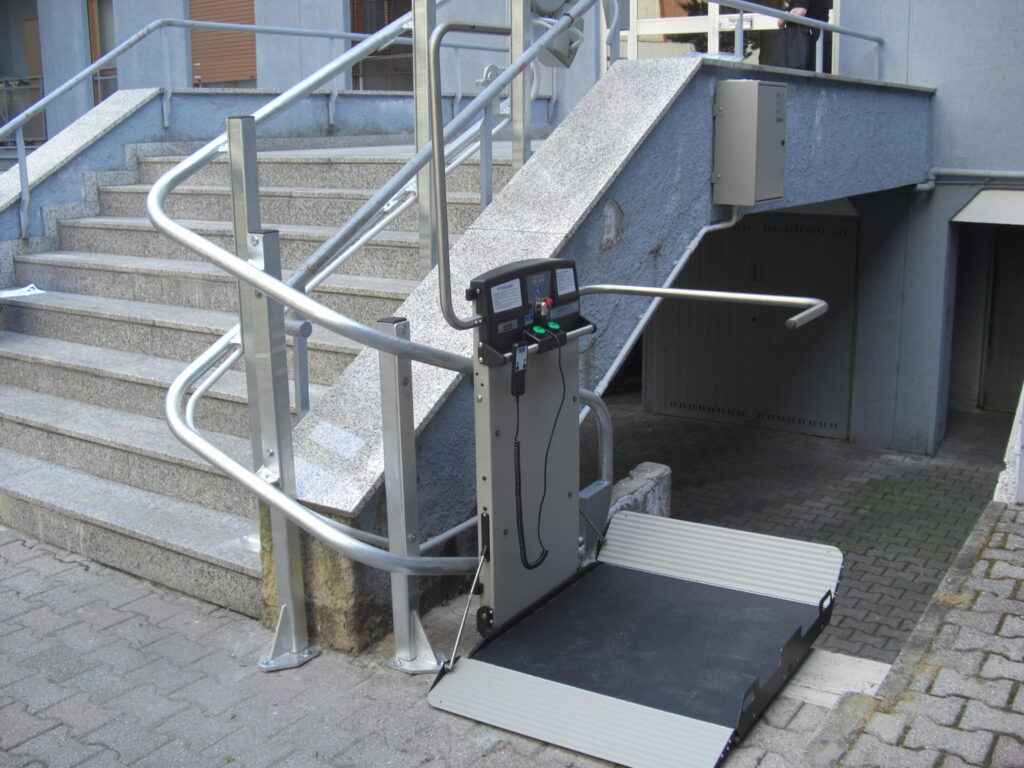 If you would need to handle more than one flight or your stairs feature curves, then a curved inclined platform lift is what you need.
These lifts feature rails that bend to match the angle of the stairs themselves. However, they can also be parked away from the top or bottom landing areas of the stairs, thus allowing easy access to the stars when the lifts aren't being used.
On average, you should be able to get a curved inclined platform lift for between $20,000 and $40,000. These lifts cost more than their straight counterparts primarily because of the additional modification needed to accommodate the curve on the stairs.
Exterior Wheelchair Lifts
Outdoor wheelchair lifts allow wheelchair-bound people to get in and out of their homes more easily. They provide access to the porch, deck, driveway, backyard, and other external parts of the home, with users only needing to sit on them and use the hand controls to direct the lifts.
Some exterior wheelchair lifts have also been developed for vehicles.  These raise the user's wheelchair and hold it behind the trunk or rear door of the vehicle for easier transportation when outside the home. These lifts work similarly to bicycle racks, and they are visible at the posterior end of the cars. They are especially ideal for smaller cars like sedans and SUVs.
Wheelchair Lift Advantages
Wheelchair lifts offer several important advantages for users. These include:
Safety:
Wheelchair lifts (as well as incline platform lifts and wheelchair stair lifts) ensure that wheelchair-bound people can climb stairs safely. They come with several in-built safety features that guarantee the user's protection while they go up and down.
Convenience:
Another significant benefit of wheelchair lifts is the convenience with which they can be used. Instead of rolling the wheelchair to access heights like porches or stairs, wheelchair lifts allow their users to move without breaking a sweat.
Independence:
For most people with mobility challenges, the reliance on others to move can be one of the biggest problems. Wheelchair lifts help to bypass this, allowing users to move independently and with confidence. And, they do this while also maintaining safety.
Space savings:
For commercial spaces, wheelchair lifts can also help to save a great deal of space. Instead of having multiple stairwells, wheelchair lifts are compact and can easily fit the locations available space
Wheelchair Lift Disadvantages
Maintenance:
Like all devices, wheelchair lifts will need to be properly maintained to ensure that they keep working. They are mechanical devices that always need to perform, and that will mean setting some money aside for regular checkups.
Compatibility:
Wheelchair lifts might not be compatible with homes with small spaces. They take up a portion of the floor area of your house, so you would need to have enough space for the wheelchair lift to work.
Planning Required:
Considering the intricacies of wheelchair lifts, you need to plan well before you get one. Installing a wheelchair lift requires different considerations - from your needs to the available floor space and even the size of your stairs.
FAQs
How do I choose a wheelchair lift?
There are several considerations for choosing a wheelchair lift. First, you need to know whether it will be used inside or outside the home. You should also consider the available floor space, as this will determine the size of the lift. Safety features should be considered, and you should also work out the cost.
Are wheelchair lifts safe?
Yes, Wheelchair & Platform lifts are generally very safe - They come with numerous different safety features - including safety rails, emergency stop buttons, weatherproofing (for external lifts), and more!
How often do I need to maintain a wheelchair lift?
Experts recommend that you take a wheelchair lift in for maintenance every 750 usage cycles. Routine maintenance checkups should occur every few months to ensure everything is compliant and safe.
How does a wheelchair lift get installed?
Wheelchair lifts should be installed by professional installers. This way, you can rest assured that their work is of the highest quality.
The installation process usually begins with an inspection of the site. The unit will need to be secured to the floor, and some electrical wiring will also be needed since the lift will need power. We recommend getting a consultation with a professional installer before the process begins to understand what will be required.
Your Platform Lift, Your Choice: Get & Compare Up To 3 Quotes From Professional Lift Installers To Save Time & Money. It's Free!